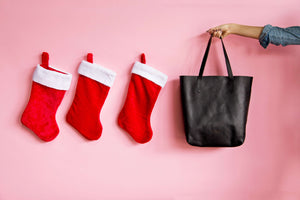 We love being part of your Christmas story, and we're customizing
handmade holiday spirit into every item as quickly as possible. See below for
your last-minute options to still gift Jon Hart this year!
Shipping
"Available now" indicates the item in the selected color is in-stock
and/or being made & can be shipped soon. Pro Tip: If you are planning on
purchasing multiple items, we advise placing a separate order for the
non-stocked items to receive the in-stock items quicker.
"Made-to-Order for you" indicates you still have the option to purchase out-of-stock items, just know that it will not be guaranteed for Christmas.
Jon Hart e-Gift Card
No shipping required! Send a gift instantly. Once you've placed your order, you will receive a separate email with the e-Gift card you purchased. Print out the e-Gift Card or send it directly to their inbox.
A Gift Is On Its Way
This is your chance to get crafty. Purchase your desired Jon Hart item, print a picture of the item, wrap it up and place it under the tree! Let the recipient know that their holiday has been extended & a gift will be on its way very soon.