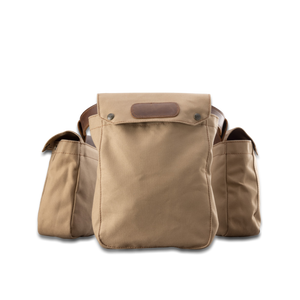 Our new and improved bird bag includes 3 bags that can be removed from the belt. Included are two side bags and a larger bag that can be personalized. Wipe clean with a damp cloth. NOT machine washable.
Coated Canvas or Cotton Canvas with Oiled Leather trim Three bags with snap closures in antique brass hardware Oiled Leather belt made to fit even waist sizes from 28"-46" We recommend adding 2" to your normal belt size when ordering (4" larger than your waist size to allow it to fit over both your pants and pant belt) Hot Stamp only: Due to the nature of the leather, the debossing of the personalization may be subtle.
Oiled Leather or Crazy-horse Leather has a deep history as saddle leather. One of the qualities that sets this leather apart from the other material types is how it reacts when it's bent, rubbed or scratched. Although scratches and marks add character to the leather, you can rub them out easily. In some cases you can rub out scratches with a circular motion using the natural oils on your skin. For deep scratches you can use a leather conditioner or simple hand cream applied with a microfiber cloth in a circular motion. Spot clean cotton canvas with a damp sponge and a detergent designated for hand laundering fine washables. Blot the stains but do not rub them, then air-dry.
characters available.
Make it Personal
Initials, name, monogram or text can be debossed on our leather with a classic hot stamp or fun foil.